De Enschedese Headbangers Organisatie bedacht in 2001 een wedstrijd voor beginnende metalbands. Het geheel kent twaalf voorrondes, iedere provincie één, waarvan de winnaars elkaar in vier halve finales weer gaan bestrijden. Deze vier winnaars bepalen in de finale wie uiteindelijk mag deelnemen aan de Wacken Metal Battle. De bands die zich inschrijven moeten aan bepaalde criteria voldoen en mogen uiteraard alleen in hun eigen provincie aan de voorronde deelnemen. Dit jaar dus de negende editie en uiteraard weer twaalf voorrondes met elk vier bands. Uiteindelijke hoofdprijs: spelen op Wacken Open Air!! Uw redacteur nam plaats in de jury.

Strijdtoneel voor de meest zuidelijke voorronde is The Rock Temple in Kerkrade, sinds enkele maanden in bezit van Eternal Rock Promotion. Deze zaal , met een capaciteit van een dikke driehonderd bezoekers, kent al sinds de opening een aansprekende agenda met onder andere Vicious Rumors, Sodom, Ten Years After en binnenkort zelfs Y&T. Vooral door de ligging trekt de zaal ook veel metalliefhebbers uit Duitsland en Belgie.
De organisatie van deze Metal Battle voorronde is een samenwerking tussen The Rock Temple en RockInc Promotion. Er zijn vandaag vier bands die hun "kunsten"mogen vertonen in deze professionele atmosfeer: goede verlichting, een ruim podium en misschien wel het belangrijkste: goed geluid.
De jury bestaat uit vijf personen en mag de volgende bands beoordelen, Als eerste mag "Collision"aantreden: een mix van hardcore en grindcore;met andere woorden meteen een flinke bak herrie, zeker omdat ze ook nog met twee vocalisten werken ontstaat er heel wat energie en beweging op de stage. Zoals hardcore gespeeld moet worden: korte heftige nummers!!
Collision
Iedere band heeft dertig minuten speeltijd, zo ook "Collision"en na een kwartierje ombouwen mag "Anxiety" het podium betreden. Deze band uit Venray speelt weer iets heel anders namelijk melodische trashmetal, duidelijk zichtbaar dat deze jongens goed voorbereid zijn.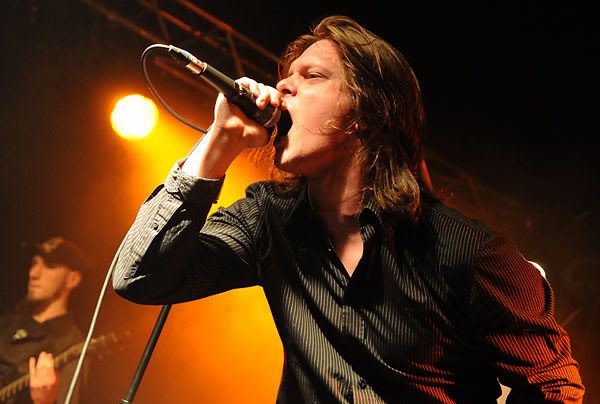 Anxiety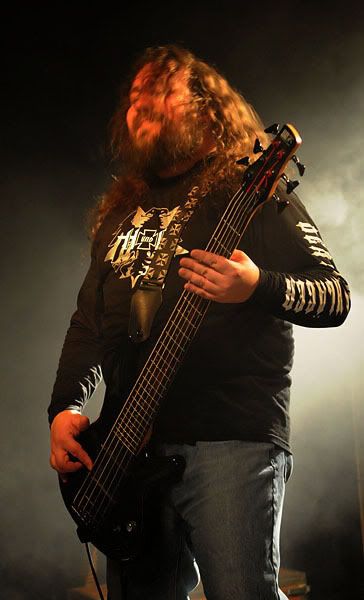 WolfP.A.C.K.
De derde deelnemer is "Wolf P.A.C.K. een band uit de omgeving en brengt ons een flinke lading Death-metal: de keuze voor de jury wordt steeds moeilijker. Afsluiten mogen de jonge heren van "Beliar" , een Black-metalband uit de regio, onlangs verscheen op deze site nog de review van hun eerste demo-cd.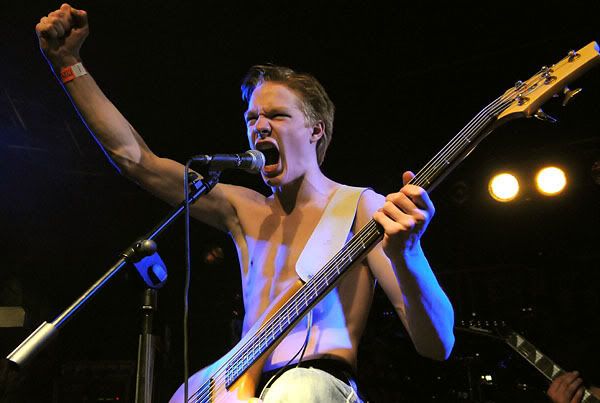 Beliar
Hoogste tijd voor de jury om in beraad te gaan maar heeft niet al te veel tijd nodig want de uitslag is unaniem: als winnaar komt "Anxiety" uit de bus, en mag dus naar de zuidelijke halve finale in 013 te Tilburg!
Als toetje krijgen de bezoekers nog een optreden voorgeschoteld van "Ripsaw", de winnaar van de Wacken Metal Battle van vorig jaar.